Masters from Guinea, Ghana, and Madagascar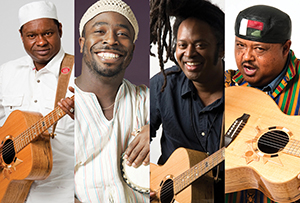 Indulge in the sounds of the finest Canadian guitarists of African origin – 2005 Juno Award winners for World Music Album of the Year – African Guitar Summit. This star-studded collective unites the talents of 6 musicians, each an expert in their individual style and together creating musical magic with African Guitar Summit. Experience live this superb and unique achievement for African music; the mix of musicians who are distinct in cultural backgrounds and languages yet sharing stories and singing each other's praises, the inspiration of these skilled hands and voices joined in common to reach the summit…A truly incredible experience! African Guitar Summit features: From Guinea, the smooth fire of Juno Award winner Alpha YaYa Diallo; from Madagascar, the quicksilver guitars and harmonies of Donne Roberts and multiple Juno Award winner Madagascar Slim, and the heartbeat of drummer Kofi Ackah from Ghana. They are backed by electric bass and ballafon, the African marimba played by Naby Camara from Guinea. Their debut CD "African Guitar Summit" was honoured with a Juno as World Music Album of the Year at the 2005 Juno Awards in April. Their second album, "African Guitar Summit II", garnered a 2007 Juno award nomination in the same category.
Donné Roberts
Guitarist (groove master) and singer from Madagascar lives in Toronto. Donné Roberts is a passionate performer. When he hits the stage he carries with him an energy that immediately exhilarates the crowd - even if they've never heard his music before. Donné performs mainly in Malagasy. Donné Roberts came to wider recognition after he released two great albums "Rhythm Was Born" and "Internation" and for his contribution to the African Guitar Summit project. Donné raised and educated in Moscow Russia and now lives in Toronto. He was the first black VJ on MTV Russia. He sang back up vocals for the Swedish pop group the "Ace Of Bace". Very actively touring Canada as a solo, duo, trio and full Donné Roberts Band sharing HAPPY MUSIC FROM MADAGASCAR!!!!
Madagascar Slim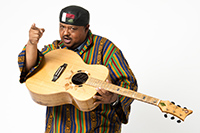 My name is Randriamananjara Radofa Besata Jean Longin. I was born on Halloween night of 1956 in Antananarivo, the capital city of Madagascar. I am the youngest son in the family and have 3 brothers and two sisters. Two of my brothers and one sister play guitar and my parents were both musicians although they did not play professionally.

When I was about nine, one of my brothers received a guitar for passing an exam. The instrument really gave him power over me and the only time he allowed me to play it, was after I ran some errands for him or gave him my dessert. I guess that's one of the reasons the guitar became very desirable to me.

My brothers played in a local band and they were into one of the most popular styles of dance music of Madagascar called "Salegy". Again I was not allowed to be in their rehearsal room but whenever my brother practised on his own I would closely observe his technique and I would try to emulate his playing on his guitar when he was not home. It was not long before I became a fairly decent "Salegy" player.

One day I heard this incredible music on the radio. It was "Hey Joe" played by Jimi Hendrix and it really changed my life and the kind of music I wanted to play then. I literally spent days and nights trying to figure out the chords and especially that fantastic solo part. I couldn't speak a word of English and I did not understand what he was talking about, but the feel of the music somehow really touched something in me.

Later when I heard some records by B.B. King, I recognized the same crying solo pattern but in a more direct and simplified form. Those two giants and the local Malagasy music were the biggest influences to my playing.

My parents sent me to Canada in 1979 to further my studies and get a good education, but in my mind the real reason I came over was to learn English so I could sing the kind of songs I had fallen in love with when I was younger. I took English as a second language and then finished college.

I graduated with honors in the "Accounting and Finance Coop Program" at Seneca College.
Alpha Yaya Diallo
Guitarist and singer Alpha Yaya Diallo, from Guinea in West Africa, is one of the hottest acts on the current world music scene. Now based in Vancouver, Canada, he's earned a matchless reputation internationally for the excellence of his musicianship and the excitement of his live shows - whether performing solo or with his band The Bafing Riders. Diallo is a uniquely multi-talented artist. His dexterous acoustic and electric guitar-playing, with its fluid melodic lines and compelling grooves, places him in the front ranks of African axemen. In addition he is a skilled and experienced performer on a variety of percussion instruments, and on the balafon (traditional wooden xylphone). To complete the abundance of riches Diallo writes his own compositions, and sings with a supple and beautifully modulated voice.
By successfully uniting the traditional and the contemporary, Diallo has carved a niche for himself beside such West African luminaries as Salif Keita, Baaba Maal, Youssou N'Dour, and Ismael Lo. But, if anything, the blend of musical elements to be found in Diallo's work is even richer and more diverse, a heritage from his childhood years. His father worked as a doctor-surgeon, frequently on the move with his family. Growing up in a number of regions of Guinea, Diallo was accordingly exposed to a variety of cultures, and absorbed musical traditions from the Malenke, Sousou, and his own Foulani people. In addition he spent time in neighbouring Senegal, where his mother has relatives, and picked up the popular and powerful mbalax rhythm there - as well as influences from Cape Verde and the Caribbean. A self-taught musician, Diallo possesses a fine ear and quickly learned how to transpose for his guitar the melodic and rhythmic patterns he heard played on indigenous Guinean instruments. He was already in great demand as a musician while at school and university, performing with such bands as The Sons of Ra'is, and Syli Authentique. Eventually Diallo found the opportunity to move to Europe, and became a member of Fatala - a group of West African musicians recording for Peter Gabriel's Real World label.
Fatala travelled widely, appearing at many festivals throughout Western Europe, including the prestigious WOMAD Festival outside London, and the Festival d'Angoulème in France. After the band's North American tour in 1991 Diallo decided to stay, and settled on the West Coast. Since then he has recorded five highly-acclaimed albums of his own compositions.. Both the acoustic Néné, on which Diallo played all the instruments, and the electric Futur were nominated for Juno Awards - the highest accolade of the Canadian music industry. In addition Futur obtained the Music Africa Award for National Recording of the Year, and the Pacific Music Industry Award for Best World Music Album. Internationally distributed by BMG, Diallo's The Message won the coveted Juno in 1999 for Best Global Recording. In 2002, The Journey also won the Juno Award for Best Global Recording, as well as The Best World Independent.
In recent years Diallo has criss-crossed Canada and the United States, garnering rave reviews wherever he goes for his masterful performances. He's been invited to an ever-increasing number of world music, jazz, folk, and other festivals – sharing the stage with the likes of David Lindley, Thomas Mapfumo and reggae stars Jimmy Cliff, Third World and Burning Spear. A documentary film about Diallo and his music was shot during a trip to Guinea, and back in Canada. Entitled The Best of Both Worlds, it was first broadcast early in 2001 on the Bravo channel, and on both the English and French CBC television. Diallo is increasingly recognized as one of Canada's leading music performers in any genre. In the summer of 2003 he played a series of high-profile European festivals as part of the Canada Council-sponsored Sonic Wave tour. And in February 2004 he was a member of the hugely successful African Guitar Summit concert at Glenn Gould Studio in Toronto - with Pa Joe, Mighty Popo, Madagascar Slim, Adam Solomon, and Donné Robert. The African Guitar Summit CD has just been nominated for a Juno. On his latest album Djama, which means 'The People' in Fulah, Diallo has taken his art to new heights, with the intricacy and precision of his guitar-playing and his soulful singing. The recording features several superb duets with fellow guitarist Karamoko Kouyaté from Mali's legendary Rail Band.

Kofi Ackah
Master percussionist Kofi Ackah, son of Jewel Ackah, was born into a musical family in the town of Ema, Ghana. His father is known as the King of Highlife in Ghana, one of the best Highlife musicians in the world. His father was his mentor. The first band he played with was his father's, known as The Butterfly Six band. After that Kofi moved to Canada in 1992 and joined The Highlife Stars with Pat Thomas and Theo Yao Boakye. He also joined the Afronubians band of Tarig Abubakar in 1993. He contributed in recordings, and toured across Canada 1993 and 1994.
In 1995 He joined the Tikisa Band of Adam Solomon, and toured across Canada and parts of the U.S. He also contributed in their recordings, which resulted as the double TAMA Awards Winners. (Toronto Africa Music Awards, best release Safari CD 1997, best band Tikisa). Kofi also was involved in school programs, teaching traditional Ghanian hand drumming, and singing. Kofi Ackah plays with his band Afrafranto playing Highlife music, in clubs, and festivals.
Kofi is the chief percussionist and drummer for the African Guitar Summit, and has contributed in their recordings (which won a Juno (Canadian Grammy) for Best World Music Recording) , and on their tours across Canada, and parts of the U.S.
Press Photos
Tour Schedule
2016
June
17 Museum of Making Music, Carlsbad CA
18 Live Oak Festival, Santa Barbara CA
19 Ashkenaz, Berkeley CA
20 Kuumbwa Jazz Center, Santa Cruz CA
21 Musical Instrument Museum, Phoenix AZ
November
19 Center for the Arts, Saugatuck MI
2017
February
16 Performing Arts Centre, Burlington ON
21 Clovis Community College, Clovis, NM
23 Dona Ana Arts Council, Las Cruces, NM
24 New Mexico Tech, Socorro, NM
25+27 Mimbres Region Arts Council, Silver City NM
28 James A. Little Theater, Santa Fe NM
March
1 South Broadway Cultural Center, Albuquerque NM
2 Henderson Fine Arts Center, Farmington NM
7 Humboldt State University, Arcata CA
10 Cal Poly University, San Luis Obispo CA
11 Aratani World Music Series, Los Angeles CA
12 Soka University, Aliso Viejo CA
13 Soka University, Aliso Viejo CA
May 11-13 LEAF Festival, Black Mt. NC
November 2 Bankhead Theatre, Livermore CA
November 7-9 Cam-Plex, Gillette WY
Back to Artist Menu