Indian Slide Guitar Master


The North American fans of Debashish Bhattacharya were hardly surprised to learn that Debashish has been nominated for two Grammy Awards for Best Traditional World Music Recording.

Debashish's previous North American tours have caused quite a stir, from his lightning-fast playing to his spectacular interaction with brother Subhasis on tabla, to the custom slide guitars of up to 23 strings that he made and played. From captivating festival sets to three hour public concerts to jamming with local musicians and bands, Debashish's music, spirit and generosity has won him many new admirers and devotees.

He will be returning for a 28 city North American tour with International Guitar Night in January/February 2017, and Debashish and Subhasis will be returning to the U.S. later in the 2017-2018 season for a duo tour.


Debashish Bhattacharya

Kolkata, India's Guitar Legend Debashish Bhattacharya started learning Indian music from his parents before he learned the alphabet. In his childhood he mastered many Indian classical instrumental styles as well as vocal music from different musical teachers in Calcutta. He became a disciple and student of Brij Bhushan Khabra, the father of Indian classical guitar, for 10 years, and also trained under Ajoy Chakraborty, the eminent Indian vocalist. He has also studied with Ustad Ali Akbar Khan.
As a performer, Debashish gave his first guitar recital at the age of four on the All India Radio, and in a public concert. In his twenties, he evolved a unique style of playing guitar, synthesizing selected features of various other instruments such as the Veena, Sitar, Sarod and Kannur. In 1984, he was awarded the President of India award at the age of 21.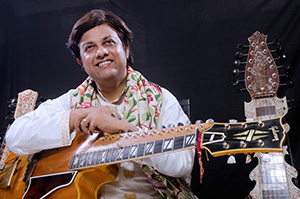 Debashish developed his innovative Hindustani slide guitar after years of research and experience. He designed and built a unique Indian Slide Guitar called the Chatarangui.
It consists of a Hofner acoustic F hole guitar, with a hollow neck and a solid wood body and a total of 23 strings. He added a hollow platform of wood running the length of the guitar's neck, mounted with 17 tuning gears, in the rear side, as well as 6 tuning pegs in the front. This piece of wood extends the width of the neck, making room for thirteen sympathetic strings, and two supporting strings for additional versatility.
Above the 6 normal (sliding melody) strings, there is a pair of ckikari strings, as on a sitar. One of Debashish's innovations was to move them to the treble side of the guitar, which enables far more complex playing, since their rhythmic drones can be played by the fingers, over other melodies simultaneously. Debashish plays this guitar while sitting cross legged, with the guitar held on the lap and played with a small steel bar, metal picks and a celluloid thumb pick. He also plays two other Indian slide guitars he designed and built, the 14 string Gandharvi and the 4 string Anandi.
Debashish is perhaps the greatest slide guitarist in India. He has, both through creating the actual design of the instrument, and through his incredible talent and discipline, elevated the Hindustani slide guitar to be the highest evolution of slide guitar anywhere. Debashish's music has musical range, physical dexterity, and emotional depth. To develop his playing, he has undergone decades of disciplined study of Indian vocal technique combined with his instrumental work. Debashish can sing perfectly in parallel with every blindingly fast melody he plays. He is an eager collaborator with an open musical mind, and has performed with a wide variety of musicians.
Over the past two decades of his illustrious career, Debashish has received prestigious professional recognition on a number of occasions: He received a Grammy nomination in 2002, won the BBC Planet Award in 2005, received another Grammy nomination in 2009 and won the Songlines UK World Music Award in 2016. He is one of the most influential pioneers in Indian music, bringing his innovations to audiences around the world.
Subhasis Bhattacharya
Subhasis is a leader of his generation of Indian percussionists. As the younger brother of Debashish, Subhasis grew up steeped in the deep musical background of the Bhattacharya family, learning melody and rhythm from infancy. His father Sri Sunil Bhattacharya taught him tabla and his mother, vocalist Smt. Manjushree Bhattacharya worked with him melodically when he was a toddler.

He started to make his presence felt in the music scene from childhood as a promising tabla player trained by teachers Sri Prabir Bhattacharya and Pt. Shyamal Bose. Now, he is considered to be a master player, and he continues to study with Pandit Anindo Chatterjee, the senior tabla maestro. He has regularly performed in every major Indian music festival, and has recorded four albums with Debashish and seven albums with Pandit Ajoy Chakrabarty.

Subhasis first toured outside of India in 1996 with Debashish and Bob Brozman. His skill and flexibility as percussionist on several instruments, rhythm arranger, and vocalist have since been heard on subsequent overseas tours in the USA, Canada, South Africa, Greece, Kuwait, Bangladesh, and Nepal. A leading studio musician in India, he has begun creating and leading large percussion ensembles, and his arranging skills are essential to the music on this album, as an equal participant in its creation. With meticulously tuned hand drums, he played intricate rhythms, plus melodic parts inside the rhythm section. Creating percussion landscapes by playing several instruments on multiple tracks gave Subhashis a sense of liberty, yielding one creative explosion after another.
Tour Schedule


With International Guitar Night
2017
JANUARY
19 Shell Theatre, Ft. Saskatchewan AB
20 MacLab Centre for the Performing Arts, Leduc AB
21 Bert Church Theatre, Airdrie AB
22 Port Theater, Nanaimo BC
26 Whistler Performing Arts Center, Whistler BC
27 Cowichan Theatre, Duncan BC
28 Massey Theatre, New Westminster BC
29 University of Victoria, Victoria BC
31 Manship Theatre, Baton Rouge LA
FEBRUARY
1 Wolf Trap Barns, Vienna VA
2 Wolf Trap Barns, Vienna VA
3 St. Mary's Church, Philadelphia PA
4 Gordon Center, Owings Mills MD
7 Sellersville Theater, Sellersville PA
8 Troy Savings Bank Music Hall, Troy NY
10 Dana Center, Manchester NH
11 Center for the Arts, Natick MA
14 Center for the Arts, Sun Valley ID
15 Ellen Theatre, Bozeman MT
16 Myrna Loy Center, Helena MT
17 Harris Center, Folsom CA
18 Brava Auditorium, San Francisco CA
19 Performing Arts Center, Livermore CA
22 California Center for the Arts, Escondido CA
23 Bing Crosby Theater, Spokane WA
24 Mt. Baker Theatre, Bellingham WA
25 Kent Meridien Performing Arts Center, Kent WA
26 Warren Miller Performing Arts Center, Big Sky MT