Europe's New Gypsy Jazz Masters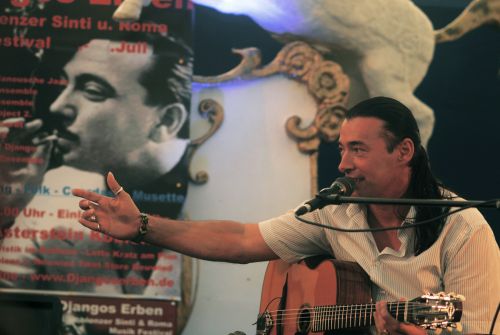 Django Reinhardt left behind an indelible musical legacy, introducing and defining a passionate style of Gypsy Jazz guitar that was astonishing in the 1930's and is still revered and emulated today. Born to a Gypsy family in Belgium, Django's playing inspired his extended family in Germany and France, and successive generations of Reinhardts have reinforced his powerful musical vision and added their own ideas. The lure of Gypsy Jazz has spread throughout the world with adherents from the United States to Japan, but the living Gypsy culture and the emotional wellspring that gives Gypsy Jazz its unique appeal remains rooted in Europe.
In The Footsteps Of Django features LULO REINHARDT, Django's grand nephew, a third generation master from Germany.. He has retained the incredible Reinhardt soul, speed and dexterity and updated the repertoire. His group, the Latin Swing Project, combines Gypsy Jazz with Latin rhythms.
Lulo Reinhardt
Lulo Reinhardt, the grandnephew of the legendary Gypsy Jazz guitarist Django Reinhardt, was first taught by his father at the age of five. At twelve, he played in the Mike Reinhardt Sextett and later co-founded the group, "Django Reinhardt and the Heartbreakers." In 1991, he founded "I Gitanos" with his father Bawo and cousin Dege, touring throughout Europe and first establishing his national reputation.
Lulo is a spontaneous and spirited musician. His curiosity took him to southern Spain in search of flamenco roots, and to South America, exploring various musical styles of Latin Jazz. By 2002, he was ready to take his place as a bandleader, founding the Lulo Reinhardt Project. They recorded the highly-acclaimed Project No. 1 in 2002, and Project No. 2 in 2005, reflecting his passion for Latin music.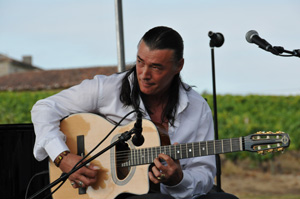 In 2007, Saga Instruments of San Francisco CA made the first Lulo Reinhardt Model Gitane 310, modeled on the classic Gypsy guitars. This inspired Lulo to compose more Swing material, which he combined with Latin music, and in 2007 changed the name of his group to the Lulo Reinhardt Latin Swing Project. They recorded their first CD in 2008. In the beginning, he played in Europe with an all-German band but later spent considerable time in Australia, forming a new band of German and Australian musicians. They recorded Live In Melbourne in 2008 and Katoomba Birds in 2010.
The Lulo Reinhardt Latin Swing Project has an extensive international touring history. In additional to annual Australian tours beginning in 2008, they have played in the United States, China, France, Switzerland, Belgium, England, the Czech Republic, Scotland and Germany. Lulo also performed as a soloist with the International Guitar Night troupe in 2009, going to Canada, America and the UK, and is scheduled for a second "tour of duty" in November 2011, before leading his band in the inaugural tour of In The Footsteps Of Django.
Press Photos
Tour Schedule
2013
November 6 Rose Lehrman Arts Center, Harrisburg PA
Back to Artist Menu