Hawaii's Kings of Swing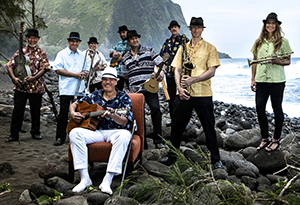 2014 GRAMMY AWARD NOMINEES
There is a new wave coming from Hawaii, a blend of traditional music and the Big Band Swing brought to the Aloha State by U.S. servicemen during World War II. Its leading exponent is Kahulanui, a nine piece band—four horns plus guitar, bass, ukulele, drums and steel—whose energy and dynamic arrangements have caused a sensation throughout the Islands. Their debut CD, Hula Ku'I, was nominated for a 2014 Grammy Award in the Regional Roots category, and soon Hawaii's Kings of Swing will be bringing their unique style to audiences across America.
Kahulanui band leader, Lolena Naipo, Jr. found inspiration from his Grandfather, Robert Kahulanui, who was a member of the Royal Hawaiian Band during an era when horns and drums were a part of Hawaiian music. In the CD liner notes for this debut release Hawaii radio icon Sylark Rossetti elaborates:
"Throughout Hawaii in the 20s and 30s, one could find orchestras playing Hawaiian Swing and the house would be jumping. Lolena and Kahulanui borrow from these influences and perform classic Hawaiian songs in a syncopated style making Hawaiian Swing vibrant and alive in Hawaii today. Lolena 'Lena' Naipo, Jr. goes back to his roots in Kahulanui's first release, Hula Ku'i. It's Hawaiian Swing at its finest.... one of the most innovative releases to come out of the islands."

Lolena accompanied his Dad who played music with Aunty Genoa Keawe, Andy Cummings among others. As Lolena grew in his abilities he would accompany musicians like Darrell Lupenui, Kekua Fernandez and even the Hawaiian Airlines Serenaders and others… With musical influences from Uncle Alvin Kaleolani Isaac's, Ray Kinney, Sam Koki, Lani McIntire and even Spike Jones, I am excited for you to hear Kahulanui with the Kahulanui horn section."
Kahulanui Band Members on Hula Ku'i: Lolena Naipo, Jr on rhythm guitar, lead vocals, arrangements, harmonies; Patrick Eskildsen on lead guitar, bass, background vocals; Robert Duke Tatom on ukulele, background vocals and Tim Taylor on drums and ipu. Kahulanui Horns and Steel: Jesse Snyder on tenor sax; Duncan Bamsey on alto & baritone sax; Garry Russell on trombone; Andrea Lindborg on trumpet; and Greg Sardinha, Paul Kim, Dwight Tokumoto on steel guitar. Produced at Lava Tracks Recording Studio on Hawaii island by Hawaii's first Grammy Award-winner, Charles Michael Brotman, for Palm Records.
Hula Ku'i was also a finalist in 2013 for the Na Hoku Hanohano Awards (Hawaii's version of the Grammy Awards) in three categories: Album of the Year, Group of Year and Most Promising New Artist of the Year.
Review:

Hula Ku'i – a new CD by Kahulanui. New arrangements of vintage midcentury songs, complete with vintage instrumentation and crisp playing techniques, and produced to gold-ribbon standards on Charles Michael Brotman's Palm Records label. "Hawaiian swing at its finest," writes Skylark Rosetti in the liner notes, but without the tinny-iness of 1930s recordings–not to mention the scratchiness on surviving discs–thanks to the resonance made possible by state-of-the-art technology.
Kahulanui is a quartet made up of the core instrumentation in contemporary Hawaiian music–Lolena Naipo, Jr. and Eskildsen on guitars, and Robert Duke Tatom on 'ukulele, plus Tim Taylor on drum set. The quartet is augmented on the recording by a full-blown horn section with Jesse Snyder and Duncan Bamsey on saxophones, Andrea Lindborg on trumpet, and Gary "Railroad" Russell on trombone. No less than three guest artists contribute the iconic sound of steel guitar: Greg Sardinha, Paul Kim, and Dwight Tokumoto.
Liner notes inform us that "Kahulanui is an inspiration passed down three generations from Grandfather Robert Kahulanui, to Dad Rodgers L. L. Naipo, Sr., to Grandson and Kahulanui band leader, Lolena Naipo, Jr. Lolena remembers stories of his Grandfather who was a member of the Royal Hawaiian Band during an era when horns ad drums were a part of Hawaiian music." Clearly, then, this project has a dimension of homage, by recreating the sonic ethos of that era.
The title, Hula Ku'i, fits on so many levels. The historical roots of the term "hula ku'i" lie in the concept of "ku'i": "to join, stitch, sew, splice, unite, joined, seam". The term "hula ku'i" referred to "joined hula, i.e. old and new steps were joined together"(Hawaiian Dictionary), and was coined when guitars and 'ukulele added the harmonic dimension to mele hula, in order to name the type of hula and their songs that we know generally as "modern hula songs." These mele are patterned into verses of 2 or 4 lines, with instrumental vamps between the verses; songs like "Na Papa He'e Nalu" (tr. 2), "Noho Paipai (tr. 3), "Kalena Kai" (tr. 5), "Na Ka Pueo" (tr. 7), "Papalina Lahilahi" (tr. 8), "Ka Mea U'i" (tr. 9), "Nani Wai'ale'ale" (tr. 10).
Mid-20th century Hawaiian musicians and songwriters like Alvin Isaacs, Sam Koki and Lani McIntire brought their fluency in big band swing music into the performance of Hawaiian music, by joining / ku'i the swing-band harmonies and arrangements of that era to Hawaiian songs. They then went another step further, by infusing /ku'i the songs they composed with harmonic progressions that ventured far beyond Hawaiian music's conventional three chords plus vamp. Think Sam Koki's "Nani Waimea"–not a typical backyard "kanikapila" song, as the musically advanced leave the novices behind.
On the CD Hula Ku'i, Kahulanui continues the "ku'i" process that is already integrated into the songs themselves. They bring new arrangements to two oldies but goodies–"Ta Ha Ua La" and "Nani Waimea," and bring a handful of less well known midcentury songs back out–Lani McIntyre's "Lava," Sam Koki's "Hula Ku'i," Alvin Isaacs's "Ka Mea U'i," Ray Kinney's "Not Pau," and Robert Kahulanui Naipo's "Ku'u Home i Waimanalo" and "Na Papa He'e Nalu." Today's recording technology, however, enables Kahulanui to take innovative spins. We hear pre-electric acoustic guitar playing; we hear triplet 'ukulele strumming, we hear '50s-style rock-and-roll sax riffs; we even hear duets of acoustic guitar and saxophone. "Ku'i" joining is carried one step further, by bringing '30s-era swing arrangements and harmonies to older hula ku'i songs like "Kalena Kai" and "Na Ka Pueo." (Check out, too, the Dizzie Gillespie-esque trumpet soloing in "Noho Paipai.")
On top of all of the instrumental shenanigans, Lolena Naipo's vocals hearken back to the vocal stylings of past generations. But a testament to his musicianship is the fact that he does not confine himself to only respectful replication. Just listen to his tutu-man take on "Noho Paipai" (also known as "Rocking Chair"), the "oo" choruses in "Ka Mea U'i," and the clipped pronunciations (almost exaggerated!) in "Na Papa He'e Nalu" –at once faithful, yet unabashedly playful.
Kahulanui's execution of big-band stylings evokes an era of smoke-filled bars alive with lindyhopping dancers. Underlying this contemporary take on vintage music, moreover, is a cultural cohesiveness of enacting ku'i–of joining old and new. Like, awesome!
Amy Stillman


Press Photos
Tour Schedule
2016
March 17 Bing Crosby Theater, Spokane WA
March 18 Washington Center, Olympia WA
March 19 Broadway Center, Tacoma WA
March 24 Orange County Performing Arts Center, Irvine CA
March 26 Spanos Augitorium, Cal Poly, San Luis Obispo CA
March 27 Harlow's, Sacramento CA
March 30 Freight and Salvage, Berkeley CA
April 1 CSI Fine Arts Center, Twin Falls ID
August 14 San Jose Jazz Festival, San Jose CA
August 16 Redlands Bowl, Redlands CA
2017
March 17 Kent Meridien Performing Arts Center, Kent WA
March 18 Discovery Theatre, Anchorage AK
March 19 Juneau Arts Council, Juneau AK
March 20 Workshops, Site TBD, Juneau AK
March 24 Performing Arts Center, Livermore CA
March 25 Barkley Theatre, Fallon NV
April 21 T. B. Sheldon Auditorium, Red Wing MN
April 22 Edson Auditorium, U-MN Morris, Morris MN
April 23 Fairmont Opera House, Fairmont MN
April 25 Cedar Cultural Center, Minneapolis MN
September 2 Strawberry Festival, Tuolomne CA
September 3 Freight and Salvage, Berkeley CA
September 6 Portland'5 Outdoor concert, Portland OR
September 8-10 Sisters Folk Festival, Sisters OR
Back to Artist Menu