New Traditions for the Taiko
Nagata Shachu, based in Toronto, Canada, has enthralled audiences with its mesmerizing and heart-pounding performances of the Japanese drum (taiko) since its formation in 1998. The ensemble has toured widely throughout Canada, the US and Italy performing in theatres, concert halls, and major music festivals.
While rooted in the folk drumming traditions of Japan, Nagata Shachu's principal aim is to rejuvenate this ancient art form by producing innovative and exciting music that seeks to create a new voice for the taiko. Under the direction of Kiyoshi Nagata, the ensemble has become renowned for its exacting, straightforward yet physically demanding performances as well as for its diverse repertoire. Their playing is the combination of unbounded spirit with the highest levels of musicianship and discipline. The result is an unforgettable experience that is both powerful in expression and heartfelt in its sincerity.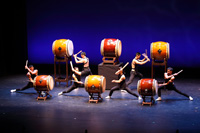 Nagata Shachu has the unique distinction of being the only group outside of Japan with the sponsorship of four major Japanese drum manufacturers. Since 1999, the ensemble has rehearsed in its own fully equipped and dedicated taiko studio.
In addition to having recorded four CDs of original music, Nagata Shachu produces its own annual concert where it premieres new works and often collaborates with guest artists.
Combining thunderous, primal drumbeats with subtle, intricate rhythms, the ensemble is able to produce a wide spectrum of sound. Featuring a vast array of Japanese taiko (including the massive O-Daiko), gongs, bells, wooden clappers, shakers and bamboo flutes, Nagata Shachu will take you on a musical journey beyond all borders.
Nagata Shachu Biographies
Kiyoshi Nagata (taiko,shinobue, and shakuhachi)
Kiyoshi Nagata, the ensemble's artistic director, is Canada's preeminent taiko soloist who has been performing in a career that spans twenty-five years. His principal studies were with Daihachi Oguchi (as artistic director and performer of the Toronto-based, Suwa Daiko group from 1982 to 1992) and with Kodo (as an apprentice from 1993 to 1994). With the assistance of a Chalmers Performing Arts Training Grant in 1999, Kiyoshi studied classical percussion with Paul Houle at the Royal Conservatory of Music in Toronto.
Since 1998 Kiyoshi has taught a credit course in taiko at the University of Toronto's Faculty of Music. In September 2003, he began teaching a public course at the Royal Conservatory of Music in Toronto. For eight years, he instructed two community groups, Isshin Daiko in Toronto and Do-Kon Daiko in Burlington, which he helped establish in 1995. Kiyoshi is also regularly invited by universities and taiko groups to conduct workshops and present lectures.
In 1994, Kiyoshi founded the cross-cultural percussion ensemble, Humdrum, whose debut Toronto performance was ranked fourth in Now Magazine's "Top Ten Concerts of 1995". He has composed and performed taiko music for dance, theatre, film and radio and continues to collaborate with artists from all genres of music including traditional Japanese instrumentalists.
Heidi Chan (taiko and shinobue)
Heidi is a versatile musician who began studying taiko in 2000 as a member of Isshin Daiko for two years. Since then she has studied various styles of percussion, including jazz and West African drumming, and has performed with numerous groups on drum kit. Her musical interests range from traditional Japanese music to modern experimental compositions. She earned her second degree in York University's Music Program, with a focus on percussion and digital composition.
Aki Takahashi(taiko, vocals, and shamisen)
Aki was born in a small fishing village on Shodoshima, a small island in the Inland Sea of Japan. As a young girl, she had weekly piano lessons and developed a secret passion to become a musician thanks to her grandmother who was always singing folksongs.
Aki began to study the three-stringed Tsugaru Shamisen and folk singing in Kyoto and was able to make the acquaintance of other musicians like her who were trying to keep this traditional music alive. Since moving to Canada in 2000, she has continued to share her music with audiences in a wide variety of venues ranging from street performing to local festivals such as the Canadian Tulip Festival and the Ottawa Folk Festival.
Aki is also the founder of the Japanese Folk Music Collective Ten Ten.
Nick Shao (taiko)
Nick began studying drums and percussion at the age of 10 at the Humber College Community Music School in Etobicoke and continued on to attend the Etobicoke School of the Arts where he was awarded the prestigious Lionel C. Wooster Jazz Award. He has performed all across North America, the Netherlands, Austria and Hungary with a diverse number of jazz, rock, world music and orchestral ensembles including the Toronto All-Star Big Band and the Toronto Symphony Youth Orchestra.
Nick completed his Bachelor of Music degree in Jazz Performance at the University of Toronto where he was first introduced to taiko and also studied West African drumming, Indonesian Gamelan and Chinese music ensemble. Nick teaches drum kit at the Classical Music Conservatory in Toronto.
Atsushi Kato (taiko)
Atsushi was born in Aichi, Japan, and started learning koto (Japanese zither) from his mother at the age of ten. In school he played trumpet in a marching band for three years. During high school and university he was active in both Judo and badminton. Having recently moved to Toronto, Atsushi was eager to study the taiko, which had always interested him in Japan, as a means of maintaining his Japanese identity in this multicultural city.

Press Photos
Tour Schedule
Nagata Shachu has open availability.
Back to Artist Menu