Germany's Gypsy Swing Masters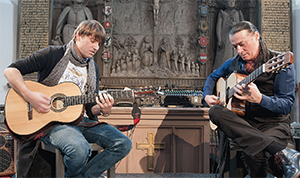 LULO REINHARDT & DANIEL STELTER are famed solo guitarists throughout Europe who have gone on to even greater success as a duo. Whether playing a scorching lead or a cool rhythm, they bring new life to classics from Lulo's great uncle, Django Reinhardt, to Duke Ellington. Each is a riveting soloist with a wide variety of styles and influences that extend from Argentina to Cuba and back to their German Gypsy roots. After an appearance at the famed Ellnora Guitar Festival in Champaign IL in 2017, they will return to the United Sates for duo tours in 2018 and 2019.
LULO REINHARDT
Django Reinhardt left behind an indelible musical legacy, introducing and defining a passionate style of Gypsy Jazz guitar that was astonishing in the 1930's and is still revered and emulated today. Born to a Gypsy family in Belgium, Django's playing inspired his extended family in Germany and France, and successive generations of Reinhardts have reinforced his powerful musical vision and added their own ideas. LULO REINHARDT, Django's grand nephew, is a third generation master from Germany. He has retained the incredible Reinhardt soul, speed and dexterity and updated the repertoire.
Lulo Reinhardt was first taught by his father at the age of five. At twelve, he played in the Mike Reinhardt Sextett and later co-founded the group, "Django Reinhardt and the Heartbreakers." In 1991, he founded "I Gitanos" with his father Bawo and cousin Dege, touring throughout Europe and first establishing his national reputation.
Lulo is a spontaneous and spirited musician. His curiosity took him to southern Spain in search of flamenco roots, and to South America, exploring various musical styles of Latin Jazz. By 2002, he was ready to take his place as a bandleader, founding the Lulo Reinhardt Project. They recorded the highly-acclaimed Project No. 1 in 2002, andProject No. 2 in 2005, reflecting his passion for Latin music.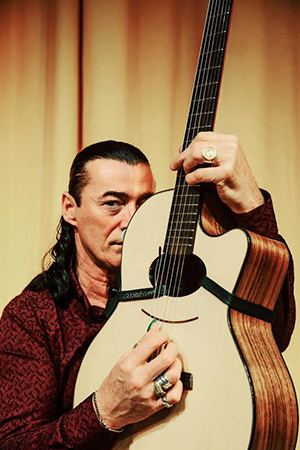 In 2007, Saga Instruments of San Francisco CA made the first Lulo Reinhardt Model Gitane 310, modeled on the classic Gypsy guitars. This inspired Lulo to compose more Swing material, which he combined with Latin music, and in 2007 changed the name of his group to the Lulo Reinhardt Latin Swing Project. They recorded their first CD in 2008.
In the beginning, he played in Europe with an all-German band but later spent considerable time in Australia, forming a new band of German and Australian musicians. They have recorded several CD's, and toured extensively internationally. In additional to annual Australian tours beginning in 2008, they have played in the United States, China, France, Switzerland, Belgium, England, the Czech Republic, Scotland and Germany.
Lulo has performed on multiple tours as a soloist with International Guitar Night between 2009 and 2016, in the U.S., Canada, the U.K. and Germany. He will return as the artistic director, host and performing guitarist for the 2017 and 2018 IGN tours.

DANIEL STELTER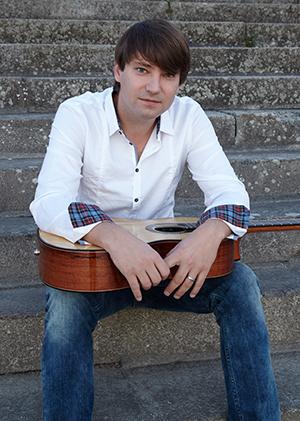 Daniel's Stelter's unique guitar style has made him a landmark musician in Germany's Jazz scene. His sound encompasses jazz, pop and classical music. Since 2003 Stelter has been enhancing his own signature sound. Today he is a guitarist in demand, well-known on German jazz stages.
Stelter's passion for music started early. He began playing the classical guitar at the age of eight, and was soon introduced to jazz, rock and pop music by his older brothers. As a teenager he spent hours meticulously listening and playing to tunes from records and tapes. He won acclaim at contests like "Jugend musiziert" and "Jugend jazzt."
At the age of 17 he was a member of the Federal Youth Jazz Orchestra under the direction of Peter Herbolzheimer. During that time, Stelter toured for six weeks through Southeast Europe and recorded a CD. After his graduation he studied jazz guitar with Norbert Scholly at the Johannes Gutenberg University in Mainz, but he never lost track of the classical guitar.
Stelter published many guitar pieces as a solo artist. Their sound, somewhere between classical music, jazz and folklore, can be heard on the ZYX sampler "world of acoustic guitars".
Stelter formed a quartet with Ulf Kleiner (piano), Tommy Baldu (drums) and Michael Pauker (bass), which has already released three records, Homebrew Songs (2009), Krikelkrakel (2012) and Little Planets (2015). The quartet's sound is a symbiosis of classical guitar with a touch of electronic music, a soundscape of cool beats, and a well-balanced dose of funk and soul. Not a note too much, very reluctant and minimalistic in its sound, but still highly impressive.
Daniel Stelter's music speaks for itself. The elaborate instrumentation is the essence. The quartet has already found its musical recipe, but isd still improving from album to album, adding further fine nuances to their sound.
Stelter is also a permanent member of the Ringsgwandl-Band, frequently touring through Germany, Austria and Switzerland. Since 2014 Daniel has been a permanent member of the band cast for the German TV-show "Sing meinen Song" (four Seasons, six specials), hosted by Xavier Naidoo, on the private channel VOX. In 24 episodes he has accompanied different German, Austrian and Swiss artists on the acoustic and electric guitar, helping to arrange their own cover-versions of different songs.
In 2016 Daniel Stelter was requested as guitar player for the NDR-BigBand and he has had the honour to accompany Jazz legend Al Jarreau on his tour through Europe, staging at Vienna's Konzerthaus, Olympia in Paris, Opera Garnier in Monte Carlo, Paradiso in Amsterdam, Performing Arts Center in Kristiansand, Alte Oper in Frankfurt, Philharmonie in Berlin and Kongresshaus in Zürich.
Also in 2016 Daniel Stelter released the record "Live in der Stadtkirche" with the internationally acknowledged Gypsy Jazz guitar player Lulo Reinhardt, which instantly went up to become "Record of the month" in the German NDR Jazz Charts. Daniel and Lulo will be touring in North America in Fall 2017, and then returning in the 2018-2019 season.
Press Photos
Tour Schedule

Lulo Reinhardt and Daniel Stelter will be available for US festivals in Summer 2018, and concert tours in Fall 2018 and Spring 2019.
Back to Artist Menu